Well, soon there will be a book for you to give to your family, friends and anyone else you think could do with a bit of translation-education.
Bloggers and eating disorder survivors
Cate Sangster
and
June Alexander
are currently working on a book to breakdown the language barrier that often exists between ED fighters and their family and friends. This can range from simple comments like "you look well" to seemingly downright thoughtless ones like "stop trying to get attention and just eat your dinner".
More often than not the family and friends of those affected by eating disorders have NO IDEA WHAT HAS HIT THEM - and really need a hand to get inside the mind of their loved one in order to avoid saying triggering and hurtful things.
This book will fill that need. It will help family and friends to understand the language of eating disorders - and therefore better understand how to help YOU on your journey to full recovery. And it will also help break down that stigma that you are doing this on purpose, or just to 'get them back' or to 'be difficult'.
SO HOW CAN YOU HELP?
Cate and June are looking for suggestions of experiences you have had where someone has said something to you and couldn't understand why you were upset by it. But also they would love suggestions from your family and friends as well. Get them to add their voices with suggestions of comments they have made where you have reacted unexpectedly so they can help fill in those blanks too.
And spread the word too. Cate has two buttons on her side bar (see below). Go grab the codes and put them on your blog. One button is to let people know about the book, the other is to let the world know that you have been a part of this valuable project too!!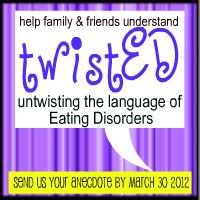 NEXT STEP??
Go visit
Cate's blog
for the funny, and
June's blog
for the facts, including the email address of where to send your suggestions.
MAKE YOUR VOICE HEARD. THIS IS BOOK WILL HELP PEOPLE TO BETTER UNDERSTAND.
To paraphrase Abraham Lincoln:
"I don't understand ED. I must get to know him better"